Through the trees, I hear the soft shuffle of scattering leaves and the sharp snap of a broken twig. I bring myself closer to my target, step by half-buried step, only making the sound of a small rodent parting leaves as it scurries along its path.

When the leaves thin just enough for me to glimpse the grazing buck, I freeze, allowing myself to blend into the new cover of bark and twig. Then, in one swift movement the arrow is nocked and at my cheek. Holding my breath, I wait as the animal takes the final step that brings its flank into the perfect position.

But, as I prepare to loose my strike another twig snaps, and the deer's garnished head rises, nostrils flaring.
Powered by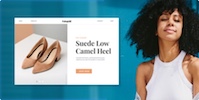 Create your own unique website with customizable templates.
Photo used under Creative Commons from michaelmueller410